Australia - 2005
---
[Home ] &gt [Australia - 2005]
|Hobart | Cradle Mountain | Freycinet | Port Arthur | Bonorong Wildlife Park | Sydney Opera House | Museums | Taronga Zoo |
---
Click on the photo to see a larger image.
Tasmania - Hobart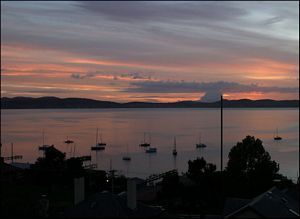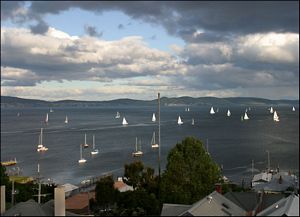 Karen and I visited Australia in November 2005. Our plan was to spend most of our time in Tasmania and end up with a few days in Sydney. We flew from Sydney to Hobart, the capital of Tasmania, an island off the SE coast of Australia. Hobart is the terminus of the Sydney to Hobart yacht race, through the rough waters of the Southern Ocean. Tasmania has about 1/3 the land area of Oregon and a population of 500K, about 1/3 of the Portland, OR metro area. The traffic is light and there a lot of agricultural land and several large national parks. The people and businesses are generally rather laid back and easygoing. We stayed in a bed and breakfast with a view of the harbor and an occasional yacht race for entertainment.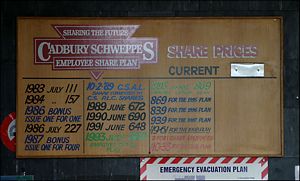 We really liked Hobart, there is a lot to see and do. It's not a huge place so you can walk about anywhere. There are a lot of good restaurants and some good book stores.
There is a Cadbury chocolate factory just North of Hobart. While we were stocking up on dark chocolate with rum and raisins (Jamaica Gold), we noticed that Cadbury has a stock option program for the employees. The last date on the board is 1999, so they either took it to the web or gave it up. It's interesting though, you normally associate broad stock option plans with high tech corporations.
The Jamaica gold is delicious and addicting. While Cadbury exports many flavors, apparently the Australians eat all the Jamaica Gold themselves, I've never found it elsewhere.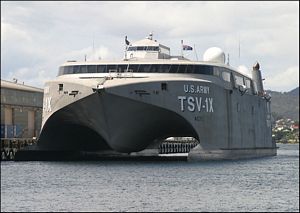 The US Army has more vessels than the Navy and more aircraft than the Air Force.


Cradle Mountain National Park
Cradle Mountain National Park is in NW Tasmania. It is a large roadless area with several large lakes. There are some pretty posh lodges and other places, but we stayed in a modern "bush hut". Our hut had a gas stove/oven and full bath and was heated with a gas potbelly stove. It gets chilly at night in Cradle Mountain even in November, which is late spring in Australia. We arrived at dusk after a drive to the West coast of the island and found a welcoming committee of a wallaby with her joey in her pouch.
There is a nice level walk around Dove Lake with a view of Cradle Mountain. There is a gold colored algae along the lake shore in a number of places that gives the water an interesting color in the right light.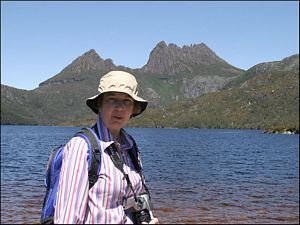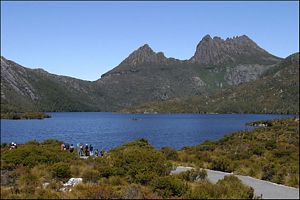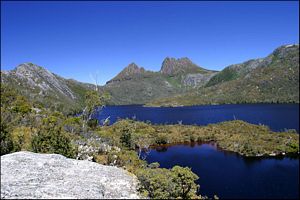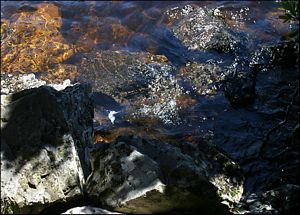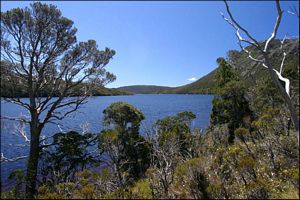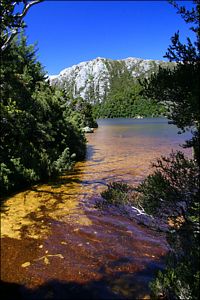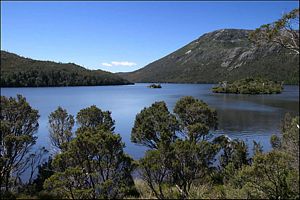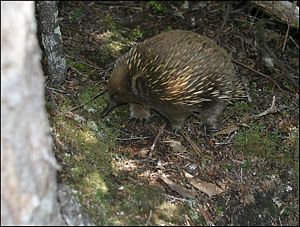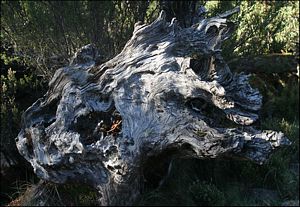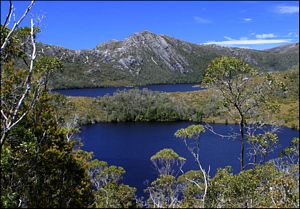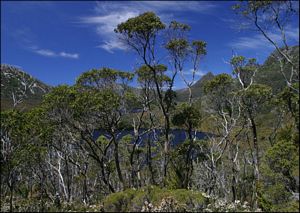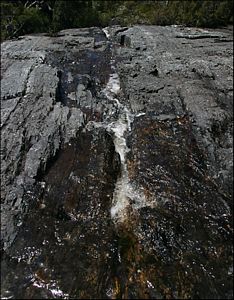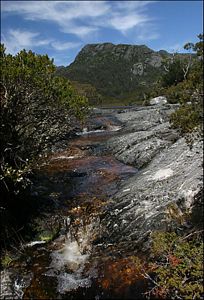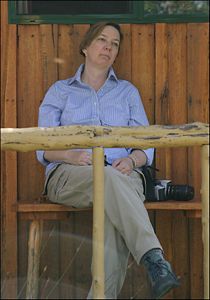 Freycinet National Park
When we left Cradle Mountain, we drove across Northern Tasmania, stopped in Launceston for lunch and arrived in Swansea on the East coast. There are a number of things to see around Swansea including several wineries and a berry farm, but most interesting is the Freycinet National Park. The park has lots of hikes, long and short. We took the short walk up to an overlook with a view of Wineglass Bay.
The Friendly Beaches are on the East coast of the penninsula. Not too many young ladies in bikinis, but there are a lot of opportunities to photograph rocks. There are also a few people looking for shells.
We also visited the Freycinet Marine Farm. We were there during a slow time, so we didn't get the tour of the oyster beds. In fact, the tour office was empty. They had the oyster prices posted on the refrigerator in the office with a note to leave the money in a box on the table. You wouldn't do that in a lot of places.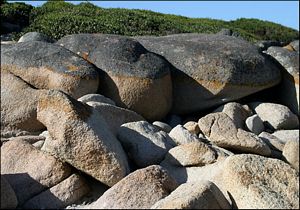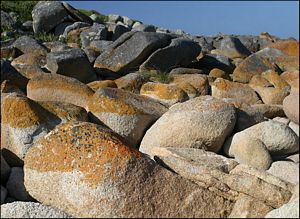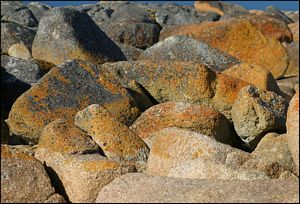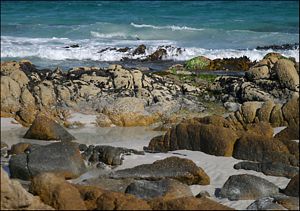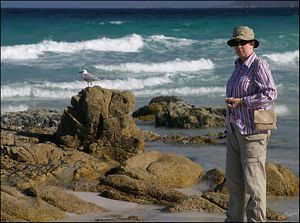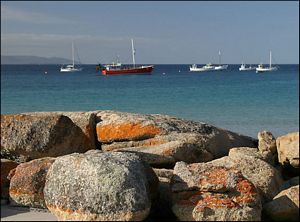 Port Arthur
Port Arthur is one of the places where the British imprisioned criminals during the early days in Australia. It was on a penninsula with a narrow neck where the guards set up the "dog line" of tethered dogs to give the alarm if someone tried to cross it. Supposedly one convict tried to cross in a kangaroo skin, the dogs barked and the guards looked out, thought he was a kangaroo (it was probably pretty late in the shift) and ignored him. The exception was one guard who wanted a kangeroo steak and pointed a rifle at him at which point he threw off the kangaroo skin and told them he was just a convict.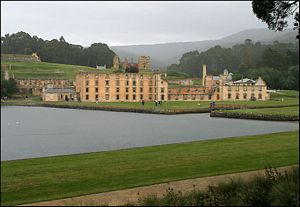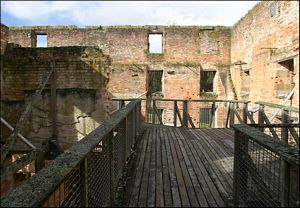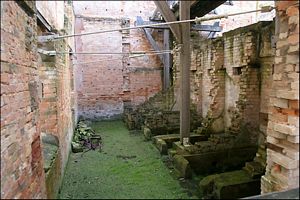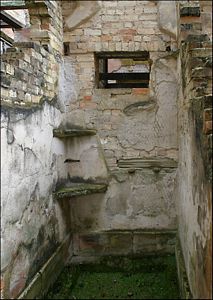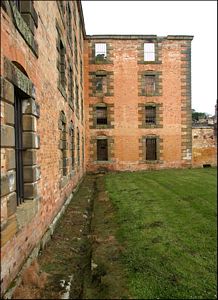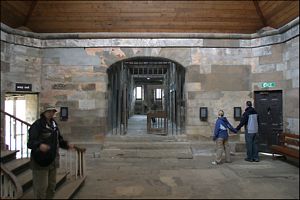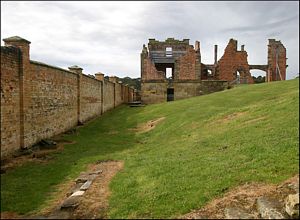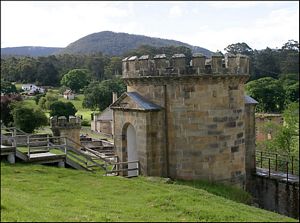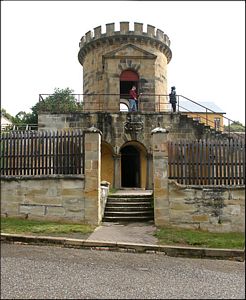 Bonorong Wildlife Park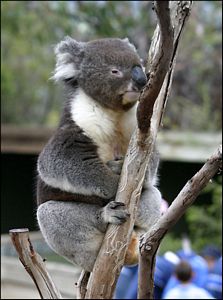 Bonorong Wildlife Park is North of Hobart. The black animals with the red ears are Tasmanian devils. Apparently, they can't jump, because the park contains them with a waist high barrier (with a sign telling visitors to keep out). Normally, they would hide out during the day, but they had just been fed lunch. The fat grey animal at the bottom is a wombat.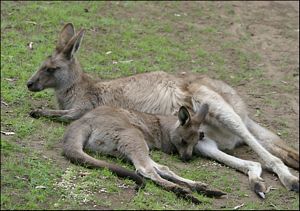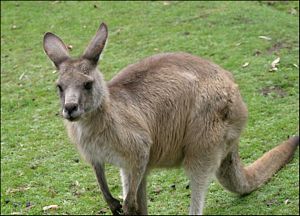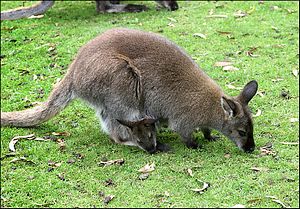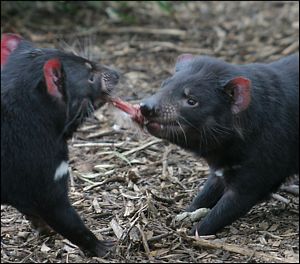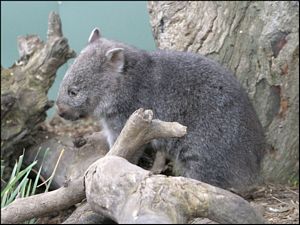 Sydney Harbor Bridge
If you don't mind heights, you can take a walking tour of the arch of the Sydney Harbor bridge. See the top of the close-up of the arch. They rope-up like a mountain climb. Just the thing for the Kangaroos.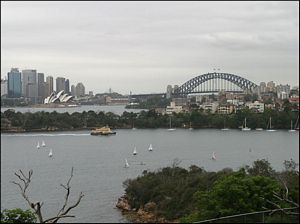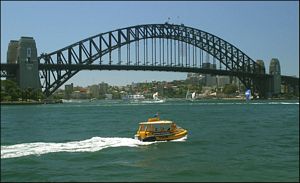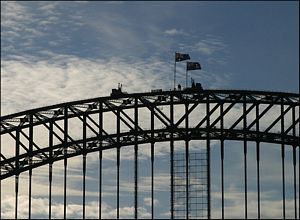 Sydney Opera House
Photography inside the performance halls of the Opera House is forbidden to avoid violating licensing or copyright restrictions. It is permitted in the entrance halls and aisles outside of the performance venues.
Museums
Powerhouse Museum

According to the museum, this Boulton and Watt steam engine is the oldest in existance. It was built in 1785, the third rotary steam engine ever built (prior steam engines drove reciprocating pumps in mines) and turned machinery in a brewery in London for over 100 years. It produced about 20 HP.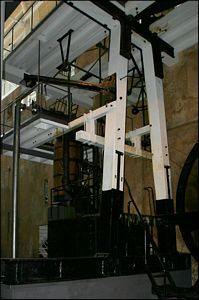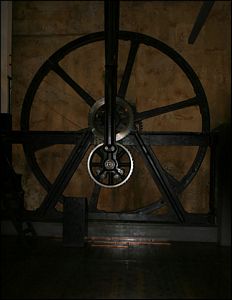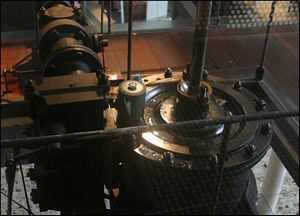 Sydney Maritime Museum

Australia II, which won the America's Cup in 1983, breaking a 130 year winning streak by the New York Yacht Club, had been moved from the Maritime Museum to Freemantle, Western Australia. She has been replaced by the First Lady, sailed single handed, non-stop around the world by Kay Cottee in 1987-88. Museum volunteers lead small tours of the cockpit and main cabin of the yacht, giving a close-up view of how she is rigged and set up for single handed sailing. As you might expect for a sailboat planning to round Cape Horn, The hull and rigging are very stout. The closer you look, the more evident her careful planning.
It is interesting to compare First Lady with Gypsy Moth IV, built 20 years before, currently in Greenwich, England. Cottee had a lot of electronic gear, including computers and what appears to be a radar. Gypsy Moth, sailed around the world with a single stop in Sydney by Francis Chichester in in 1966-67 had a radio and electric lights and an alternator which worked most of the time. Chichester used astral navigation and did his computations using log tables. First Lady was smaller, had fewer sails, roller furling for the headsails and a shorter stern counter. All in all, a better design (Chichester thought his boat was too big).
The first solo circumnavigator, Joshua Slocum in Spray (1895-98) was not in a hurry and made many stops along the way. He didn't have a chronometer, self-steering gear or an engine and didn't miss them. He started off sailing Eastward, but when Moorish pirates chased after him off North Africa, he turned around and went the other way. Off Tierra del Fuego, he frustrated a midnight raid by barefoot indigenous people by scattering carpet tacks on Spray's deck before going to bed. Slocum had survived one shipwreck and had built a boat to get home, so most things didn't worry him. Of the three, I would say Slocum had the most fun. His advice at the end of his book: "To young men contemplating a voyage I would say go."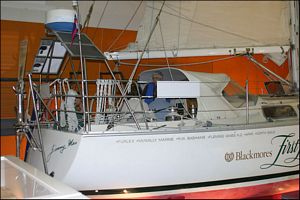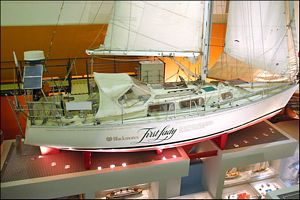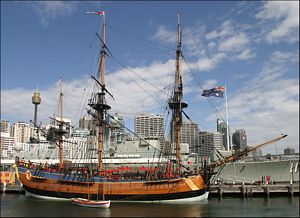 The full rigged ship is a replica of Captain James Cook's Endeavour in which he charted New Zealand and the East coast of Australia (1768-71).


Taronga Zoo
Taronga Zoo is reached by a pleasant ferry ride across the harbor from Sydney. Shooting animals in a zoo is like shooting fish in a barrel, but sometimes they pose. In order of appearance: koala, komodo dragon, Australian two-headed turtle, gecko, giraffe, chimpanzee, tourist, red panda.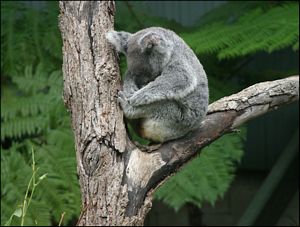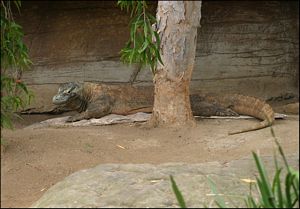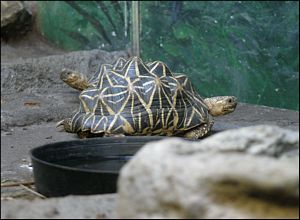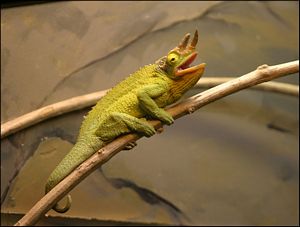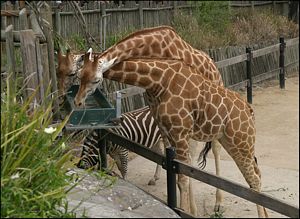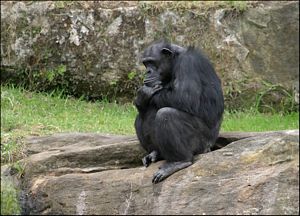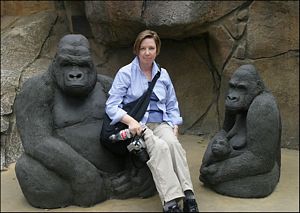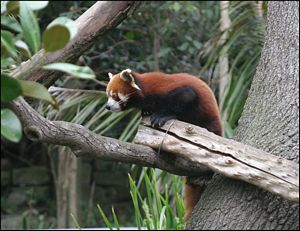 ---
© 2005 Bruce Blankinship